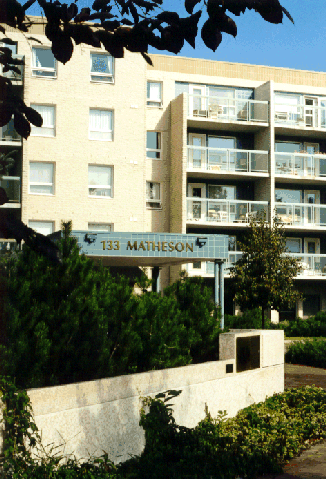 The Rosh Pina Synagogue congregation, the oldest Synagogue in Manitoba, initiated the formation of the Rosh Pina Housing Co-op Ltd. which sponsored the development of this impressive facility.
Constructed in a residential neighbourhood this project is nestled within an extensively landscaped five acre site which affords a park like environment to its residents.
This 62 unit, 5 storey seniors housing project was the sole project in Manitoba to receive funding through the Federal Cooperative Housing Program in 1989.
This Project is self managed by the Sponsor's existing administration.
Sponsor: Rosh Pina Housing Co-op Ltd.
Location: 133 Matheson Avenue East, Winnipeg, Manitoba.
Category: Seniors Non Profit COOPERATIVE Housing.
Unit Mix: 62 units, 1 and 2 bedroom layouts.
Amenities: The Project provides extensive grounds, a large multipurpose room, a games room, a guest suite, and all of the facilities and programmes available from the adjacent synagogue.
Subsidies: 31 Rent supplement units are available for rent-geared-to-income.
Management: Developed by ACORN – Managed by Rosh Pina Synagogue.