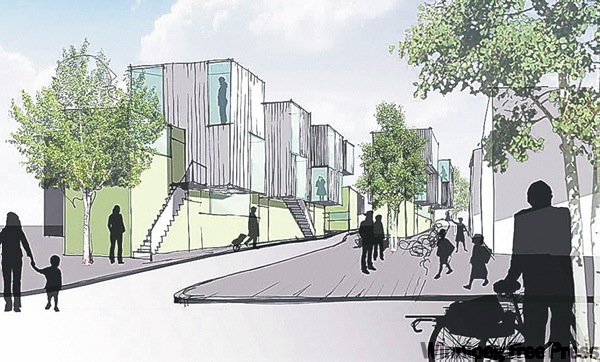 Affordable housing in the heart of Winnipeg City.
Award winning design.
Not-for-profit developed, owned and operated.
Rent subsidies available for eligible applicants.
Open to all Canadians.
Thank you for your interest in this exciting new affordable housing development.
Centre Village is an exciting new community project located in the heart of Downtown Winnipeg at 575 Balmoral Street in proximity to the University of Winnipeg, Red River College, Sister McNamara School, Downtown local restaurants, cinemas, stores, cultural centers, and excellent public transport.
The unique architectural design of this project offers its residents a choice of 25 different suite designs in a combination of 1, 2, 3, and 4-bedroom layouts, over three levels.
Significant financial contributions were made by the Municipal, Provincial and Federal governments to assist in achieving affordability (lower end of market rents). In addition, the project offers monthly rent supplement for eligible households in thirteen of the twenty five suites (eligible rent supplement residents pay approximately 30% of their household income as their portion of the rent and the government makes up the difference).
Occupancy of the new facility occurred in the Fall of 2010.  Those interested in becoming residents of this facility should return the completed attached application, and required documents for review.  For leasing enquiries, suite availability, or any other questions, please call 982.2000.
Please return the completed application to: CENTRE VILLAGE: c/o Murdoch Management, 757 Henderson Highway, Winnipeg, Manitoba R2K 2K7 – or Fax 669.4509.
Apartment description:
There are eight 1-bedroom apartments, seven 2-bedroom apartments, eight 3-bedroom apartments and two 4-bedroom apartments in the facility.
The table below correlates each unique apartment style.
| | | | | | |
| --- | --- | --- | --- | --- | --- |
| Suite Number | No. of beds | Suite sf | Deck | Patio | Rent $/mth – all rents are subsidized for eligible households and based upon income. Parking, TV & phone are extra. |
| Unit 01 | 3 bedrooms | 865 sf | 75 sf | 40 sf | Call 982.2000 |
| Unit 02 | 3 bedrooms | 870 sf | 75 sf | – | Call 982.2000 |
| Unit 03 | 2 bedrooms | 580 sf | – | – | Call 982.2000 |
| Unit 04 | 2 bedrooms | 645 sf | 50 sf | – | Call 982.2000 |
| Unit 05 | 3 bedrooms | 845 sf | 75 sf | – | Call 982.2000 |
| Unit 06 | 1 bedroom | 385 sf | – | – | Call 982.2000 |
| Unit 07 | 2 bedrooms | 680 sf | 160 sf | – | Call 982.2000 |
| Unit 08 | 2 bedrooms | 740 sf | 50 sf | – | Call 982.2000 |
| Unit 09 | 4 bedrooms | 990 sf | 50 sf | 36 sf | Call 982.2000 |
| Unit 10 | 4 bedrooms | 990 sf | 50 sf | 36 sf | Call 982.2000 |
| Unit 11 | 2 bedrooms | 740 sf | 50 sf | – | Call 982.2000 |
| Unit 12 | 1 bedroom | 370 sf | – | – | Call 982.2000 |
| Unit 13 | 2 bedrooms | 660 sf | 75 sf | – | Call 982.2000 |
| Unit 14 | 1 bedroom | 465 sf | 45 sf | – | Call 982.2000 |
| Unit 15 | 1 bedroom | 385 sf | 74 sf | – | Call 982.2000 |
| Unit 16 | 1 bedroom | 500 sf | 50 sf | – | Call 982.2000 |
| Unit 17 | 3 bedrooms | 890 sf | 50 sf | 120 sf | Call 982.2000 |
| Unit 18 | 3 bedrooms | 870 sf | 65 sf | – | Call 982.2000 |
| Unit 19 | 1 bedroom | 470 sf | 100 sf | – | Call 982.2000 |
| Unit 20 | 3 bedrooms | 720 sf | 50 sf | – | Call 982.2000 |
| Unit 21 | 1 bedroom | 450 sf | – | – | Call 982.2000 |
| Unit 22 | 1 bedroom | 390 sf | 78 sf | – | Call 982.2000 |
| Unit 23 | 2 bedrooms | 695 sf | 110 sf |   | Call 982.2000 |
| Unit 24 | 3 bedrooms | 910 sf | 75 sf | 57 sf | Call 982.2000 |
| Unit 25 | 3 bedrooms | 850 sf | 50 sf | 57 sf | Call 982.2000 |