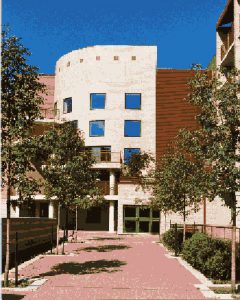 The Immigrant & Refugee Community Organization of Manitoba (IRCOM) sponsored the development of a 67 suite "transition house" to assist government sponsored refugees entering Canada to become familiar with their adopted country.
The Transition House occupies a full city block which incorporates a City Park complete with children's' play structures.
Design considerations for the building incorporated the special needs of the futures residents including play space within each suite and areas designated to deliver social and educational programs.
Mortgage loan assistance through the Manitoba Housing/ CMHC Special Needs Program and grant assistance through a variety of agencies financed the development of this facility.
 
Sponsor: Immigrant and Refugee Community Organization of Manitoba.
Location: 95 Ellen Street, Winnipeg, Manitoba.
Category: SPECIAL NEEDS Family Housing (government sponsored refugees).
Unit Mix: 67 suites of 1, 2, and 3 bedroom layouts.
Amenities: Meeting rooms, resource rooms, multipurpose room, administration offices, exterior playground, assistance programming.
Subsidies: Rent-geared-to-income.
Management: Developed by ACORN – Self Managed