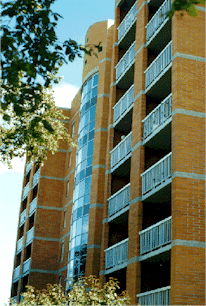 St. Michael's Villa Inc. is pleased to welcome the interest and participation of seniors in this distinctive residential non-profit development located conveniently in the heart of the Transcona residential community in Winnipeg.
This residence is far more than an eight story apartment development. St. Michael's Villa radiates the spirit of a rich and livable residential community into which activity centers, meeting places, quiet lounges and spacious accommodations are tastefully integrated to provide a vibrant range of interaction, intimacy and privacy.
The community concept offers the pride of ownership embodied in a life lease along with the spirit of independence, security and commitment of its members.  Come visit with us!
SITE PLAN
St. Michael's Villa is bound by the spirit of closeness to the very heart of the Transcona community. The residence is blessed with a location from which a short stroll will bring one into touch with the vast array of commercial, recreational, professional, health, and municipal services of Downtown Transcona and the green tranquility of Kern Park. The site is adjacent to public transit services which provide a most convenient access to regional shopping facilities at Kildonan Place Mall or to downtown Winnipeg.
A NEW LEASE ON LIFE
Pride of Ownership and Security with the Flexibility of Leasing
St. Michael's Villa is moved by the spirit of long term relationships with its residents in a community that will continue to provide an enjoyable and attractive living environment well into the twenty first century.
The full and continued enjoyment of residents in their new St. Michael's Villa home is secured for life by a life lease agreement. Residents do have the option of disposing of their life lease and recouping their equity investment in accordance with conditions outlined in the life lease agreement.
St. Michael's Villa Inc. life lease agreement will guide and protect from risk, those seniors who wish to secure their opportunity for residency while the project is under development or it is complete. Participation can be secured with a refundable deposit.
FINANCIAL BENEFITS
Affordability · Security · Investment
St. Michael's Villa provides generous living at modest costs. Participation in the project provides the opportunity for a sound equity investment and sound financial stewardship. Residents are blessed with the security of ownership and with the freedom of leasing.
Beneficial financing and considerable equity contributions from both the Sponsors and the Government of Manitoba afford the opportunity of quality accommodation at highly competitive monthly rents with modest refundable equity contributions from Villa members of approximately $17,000 and $20,000 for agreeable one and two bedroom suites.
A life lease in St. Michael's Villa is an asset which is guaranteed to maintain its initial nominal cash value. The equity invested in the life lease is tax exempt and has further value in its beneficial lowering of monthly housing charges to the life lease holder by some $133.00 per month. For some it can provide a favorable alternative to investing the same amount of funds in taxable investments, with benefits comparable to Canada Savings Bonds. This equity is held in trust and the accrued interest is applied against operating costs.
THE SPONSOR
Integrity · Service · Stewardship
St. Michael's Villa Inc. is moved by the spirit of non-profit service to the community. The organization was duly incorporated as a non-profit corporation for the specific purposes of providing the highest quality accommodation at the lowest possible cost to Transcona seniors. For this reason, the use of the site for the project has been provided at a nominal cost.
The organization is closely affiliated with St. Michael's Ukrainian Catholic Church, a well respected institution of long-standing in the community. St. Michael's Villa Inc. warmly opens its doors to all seniors to participate in this residence. St. Michael's Villa Inc. Board of Directors are always very pleased to entertain inquiries about the project or the life lease concept and with great pleasure will assist you in securing your suite in this development.
Professional property management services are provided by Murdoch Management Inc.
FINANCING
Preferential Interest Rates
The Provincial Government has provided subsidy to the project through preferential interest rates 2% under market. Ten percent of the total capital costs are forgivable at the end of the mortgage amortization period ($450,000). Due to this program, rents can be as much as 30% lower than those in another building of the quality.
ACCOMMODATIONS
Choice · Elegance · Mobility
St. Michael's Villa is comprised of elegant well appointed suite designs to better serve the needs of today's upwardly mobile seniors. One bedroom suites of over 730 square feet and a variety of two bedroom plans starting at approximately 860 square feet are designed with balconies, appliances, and storage to ensure the satisfaction of individual preferences.
AMENITIES
Attractiveness · Richness ·
St. Michael's Villa bestows upon its members the richness of interaction and vitality along with the tranquility of privacy. A games room, craft room, library, solarium, kitchen and multipurpose room proposed for the main floor provide counterpoint to the smaller more intimate lounges found on each residential floor overlooking the well kept neighborhood. On site parking is available to those who desire an automobile close at hand.