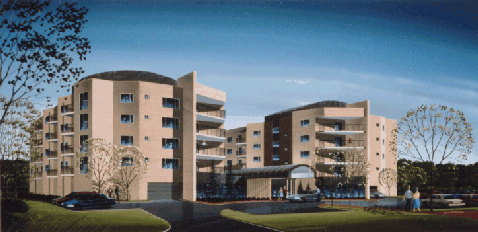 Not-for-Profit Affordable Lifelease
64 suite adult living apartment building and retired teachers resource centre located in the South St Vital neighbourhood in the city of Winnipeg, Manitoba.  Magnificent amenity space backing onto the Seine river.
Thank you for your interest in the VIC WYATT HOUSE, a new Not-For-Profit LIFE LEASE Housing Project for those 50 years of age or better.
The Project has been developed on a 5.29 acre river bank site bounded to the east by the River Seine and to the west by St. Anne's Road in Winnipeg, Manitoba. The site (which has never been developed) is located to the South of Southglen Blvd., and to the East of St. Anne's Road (919 St. Anne's Road).
Over 3 acres of natural river bank woodland is being maintained in its undisturbed state for the enjoyment of our residents.
The Project has been developed as a Not-For-Profit Life Lease. This arrangement provides the benefits of renting with the privileges of ownership. The Life Lease concept is explained in detail later in this brochure.
RESIDENTS BENEFIT FINANCIALLY FROM:
The generosity of the Vic Wyatt endowment donating in excess of One Quarter of a Million Dollars.
 Not-For-Profit Operating for the life of the project.
Lower and Longer Term borrowing rates via Bulk Mortgage Financing.
SPONSORING ORGANIZATION
The Vic Wyatt House Inc. has been provided with a generous endowment from the estate of the late Vic Wyatt to assist with the development of a Not-For-Profit Housing and Resource Centre Project for teachers and community seniors.
Vic Wyatt, born, raised and educated in St. Vital, Winnipeg, spent his lifetime as a teacher, principal and superintendent of St. Vital Schools.
As an educator, he considered teaching the "highest profession" and set standards of excellence for himself and those with whom he worked.
Having no children of their own, both Vic and his wife Marie, treated all students as part of their "family". Over the years their efforts have been significant in affecting the lives of many. Their endowments will continue to do so in the future. Marie died on Dec. 18, 1984; Vic on Dec. 4, 1993.
The Project is sponsored by the VIC WYATT HOUSE INC., a Not-For-Profit housing corporation set up specifically for this sole purpose. The Board of Directors of the Corporation serve in a philanthropic nature for the life of the Project. Directors receive no financial gain nor income from their position.
PROJECT AND PROGRAM
Vic Wyatt House provides the benefits of Not-For Profit Life Lease housing to community Seniors.
Residents do not purchase the suite as in a condominium. Instead, residents purchase a Life Lease.
The Life Lease may be later terminated by the resident with notice (90 days).
The amount required to purchase the Life Lease is referred to as the Entrance Fee. Upon termination of the Life Lease, Entrance Fees are refunded in full (in accordance with conditions outlined in the life lease agreement and Law).
Income generated by money invested in the Life Lease Project is used directly to reduce the residents' monthly operating costs.
The Life Lease Model (originally designed by the Government of Manitoba) provides quality and affordable, market-style accommodation managed for the life of the project on a Not-For-Profit basis.
BUILDING
The building plans accommodate 64 two and three bedroom suites in a variety of sizes and designs.
An extensive area of multi-purpose amenity space has been designed within the building for the use of the residents and includes a conservatory, a multipurpose room with kitchenette facilities, a games/ recreation room, a fireside lounge, a library/meeting room, and common storage space. These spaces can be reserved by the residents at no cost for larger gatherings.
The teacher's resource centre amenities are also be available to residents of the Project.
The building structure comprises of 100% non combustible concrete and masonry materials, high quality finishes and high degrees of acoustic privacy.
The Project is fully serviced by elevator, security access vestibule, and enclosed, heated and elevatored parking.
The building design provides Central Forced Air Heat and Air-Conditioning with individual control of supplementary suite heat.
Hallways are designed to be positively pressurized to eliminate the potential migration of cooking odours into the public spaces of the building.
All suites, hallways and lounges have been equipped with sprinklers and the most modern of automatic smoke and fire detection and alarm equipment.
Costs include, wall-to-wall carpeting in the bedrooms, living rooms and dining areas; with high quality resilient flooring in the kitchen, bathrooms and storage areas to assure ease of maintenance. Options for flooring selections (carpet/ hardwood) were made available for first time residents prior to construction commencement in order to accommodate individual colour schemes and tastes.
All amenities in the building are accessible to wheelchairs. Bathroom tubs have been fitted with grab bars for added safety. An "emergency call system" has been installed for the resident's current and future convenience and safety.
The grounds of the project have been professionally landscaped, with available gardening space, and will accommodate the needs of our residents. Our landscape design was sensitive to the existing river bank wood land.
Guest parking is available at grade level with sufficient power for block heaters and in car warmers and a limited number of recreation vehicles (Residents parking is indoors).
MANAGEMENT STRUCTURE
The Project is owned and operated by Vic Wyatt House Inc., a Not-For-Profit housing corporation set in place in accordance with the Laws of Manitoba for this sole purpose.
The Not-for-Profit corporation administers the overall financial affairs of the building on a continuous non-profit basis throughout the life of the Project.
A residents' association plays an active role in the day-to-day operation of the building for such matters as, social and recreational programming.
The Board is responsible for ensuring that the highest degree of professional management service is available to the Project.
The Board serves without remuneration of any sort.
Professional property management services are provided by Murdoch Management Inc.
FINANCING
The Life Lease model, strictly as a financial investment, works for the tenant by reducing the tenant's monthly operating costs.
The tenant purchases the Life Lease by way of an Entrance Fee. The Entrance Fee is fully refundable upon termination of the Lease in accordance with the Life Lease Act of Manitoba.
The tenant is not required to sell the Life Lease upon termination.
The minimum Entrance Fee may be compared to the way a down payment works for a home owner when purchasing a house. The greater the down payment, the less the capital borrowed by way of a mortgage, therefore, the less the monthly debt service or mortgage payment.
A Minimum Entrance Fee is required to pay the proportionate share of the buildings' capital cost
The Vic Wyatt House Inc. a duly incorporated Not-For-Profit housing Corporation is INCOME TAX EXEMPT.
ALL ENTRANCE FEES ARE 100% REFUNDABLE
WITHOUT ADMINISTRATIVE OR OTHER DEDUCTION
PROJECT COSTS – (please call for current information)

*HOT RENTS – The Vic Wyatt House rents include all of the operational costs associated with Common Costs, Live In Custodian, Enclosed Heated Parking, Heat, Light, Water, Property Taxes, Debt Service, Regular Building, Grounds and Appliance Maintenance, Building Custodian Services, Free Laundry, Administration, Property Management, Cable TV Service, Vacancy/Bad Debt Reserves, Capital Replacement Reserves and cable television service. The cost of telephone is the tenant's responsibility.
STANDARD PROJECT FEATURES
Riverbank property with most balconies facing river woodland view.
Heated, elevator access parking under each tower.
Surface Visitor Parking available.
Two full baths, one with walk-in shower unit in every suite.
French balcony with full view sliding windows and leaning railing in addition to full walk-out balcony.
Large, oversized windows throughout.
High quality standard carpet and finishes.
Contemporary doors and trim throughout suites
Mirrored closet doors.
Pocket French or Swing French doors in dens.
Open European style kitchen with privacy wall and eating counter
Choice of full gourmet eat-in kitchen in suites A and D
Lever style ease of access door handles.
Lever style ease of use kitchen and bath faucets
High quality lighting fixtures.
Ample Ensuite storage.
Ensuite laundry mechanical/ electrical systems built in.
Free laundry room on every floor.
Workshop and Common storage space outside suites.
Crafts, games & recreation room.
Library and resource/meeting room.
Luxurious common room for resident activities and private family functions with full kitchen facilities.
Hair salon.
Common Conservatory space.
Common Screened porch.
Common Outdoor shaded porch.
Common Outdoor garden.
Common rooftop patio with giant chess/checker boards for the enjoyment of all residents and their visitors
Private rooftop patio in addition to balcony for two suites facing courtyard on 2nd floor (unit C and unit E).
Security system at main entry, key access only to other entries.
Emergency call system in every bedroom and bathroom in the Project.
Live-in caretaker for daily complex upkeep and security.
Property management service on call 24 hours/day, 7 days/week.
Gas-fired forced air heat and cooling.
OPTIONAL FEATURES (Fixtures and finishes selections customized by Life Lease tenants prior to construction)
Extra parking available for those with RV's or more than one vehicle.
Upgrades available for carpet and finish choices.
Oak hardwood flooring.
Personal choice of lighting fixtures.
Fully glazed and screened balconies.
Supplemental cooling if desired.
Central vacuum.
Ensuite laundry appliances.
Dishwasher/ Garburetor appliances.
Additional Choice of Appliance Features (self clean ovens, vertical door fridges, etc.)
Oak kitchen cabinets.
Oak Bathroom Vanities