The Columbus Centennial House is built on the banks of the Red River and adjoins a seniors drop in centre complete with restaurant, licensed lounge, and banquet facilities.
The Manitoba State Council of the Knights of Columbus is the sponsor of this non-profit housing cooperative.
Funding assistance to construct this 70 unit seniors housing project was secured through Canada Mortgage & Housing Corporation via the Index Linked Mortgage Program. Located on the banks of the Red River, this development provided 35 units for core need tenants with the remaining units commanding "market rents".
This building is Phase II of a three phase vision by the Knights of Columbus to provide quality social, recreational and residential services to the seniors within the community.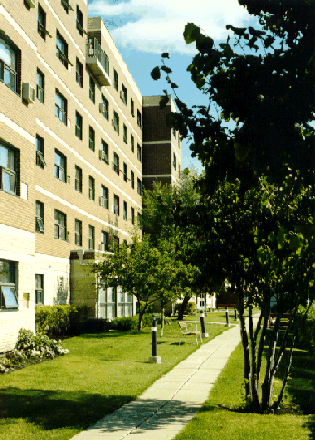 Sponsor: The Manitoba State Council for Knights of Columbus & Columbus Centennial Seniors Housing Cooperative
Location: 410 DeSalaberry Ave. Winnipeg, Manitoba
Category: Senior Citizens (55 plus) – Non Profit COOPERATIVE Housing
Unit Mix: 70 suites, 1 and 2 bedroom layouts
Amenities: Extensive internal multipurpose area, building attached to a senior's drop in centre, restaurant, lounge and banquet facility.
Subsidies: Rent Supplement is available to 35 suites for rent-geared-to-income.
Management: Developed by ACORN – Self managed by the K of C.