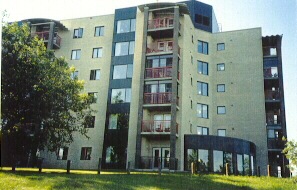 Thank you for your interest in Charleswood Legion Non Profit Housing, our Non-Profit Seniors Housing Project.
The building offers 60 suites of quality housing to senior citizens.  Thirty of these suites are Life Lease tenure, the remaining thirty are "Private Non Profit Rental" and offer rent-geared-to-income for those who qualify. Download an application for a subsidized unit here.
The unique "L" shaped floor plan of the building offers a variety of preferences for daylight and views over Charleswood and the park.
All suites contain wall-to-wall carpeting, resilient kitchen and bathroom flooring and central air.  Large storage room with rough-in for washer/dryer in each apartment.  The "California Kitchen" contains "European-styled" kitchen cabinets with washable laminate surfaces, 30" easy cleaning range and range hood, 15 cubic foot self defrosting refrigerator/freezer combination, built in dishwasher, two compartment stainless steel sink.
The bright corridors feature attractive colour coordinated finish materials and handrails.  The corridor widens at apartment entries creating enhanced sense of entry.  Each suite entrance contains a colour coordinated parcel shelf in the corridor.  Air conditioned and fresh air-pressurized to eliminate smoke and cooking odors.
Concrete floors, ceilings, and walls between apartments provide sound-proof living.  All apartment windows are oversized, triple-glazed units designed to minimize exterior noise.
Garbage chutes and common laundry rooms are located on each floor.
LOCATION
Located at the centre of one of Winnipeg's most prestigious single-family residential neighbourhoods, residents of Charleswood Legion Non Profit Housing are sure to enjoy the tranquility of this "on the park" setting.  Situated on the north side of Roblin Blvd at Municipal Road in Charleswood, the site's most dramatic feature is the beautifully maintained Beauchemin Park.  Mature trees surround the property.  Residents overlook expansive parkland.  Walking paths follow Beaver Creek through the park, linking Charleswood Legion Non Profit Housing with the Assiniboine River to the north.
Roblin Blvd, provides easy access to the "Village Centre" of Charleswood and to the City of Winnipeg, proper.  The famous "City Park" or Assiniboine Park is a short drive away featuring the City's zoological park, botanical hot house and English Gardens.
Groceries and retail shopping, financial and religious institutions, health care and social and recreational opportunities are all readily accessible to residents of Charleswood Legion Non Profit Housing.
City of Winnipeg Transit serves the area with bus stops along Roblin Blvd. immediately in front of Charleswood Legion Non Profit Housing. 
SPONSORING ORGANIZATION
Charleswood Legion Non Profit Housing is sponsored by The Royal Canadian Legion, Charleswood Branch.  The Charleswood Branch is a non-profit organization established to serve its members, the community and the country.  The Charleswood Branch has operated successfully since 1932.  In recent years the Charleswood Branch has played an important role as sponsor and patron of a great many community events and programs.
BUILDING
Charleswood Legion Non Profit Housing is a non-denominational residence accessible to Seniors from every walk of life.  The 6 storey building houses 60 suites.  30 , 1 bedroom rent subsidized suites, and 30, 2 bedroom Life Lease suites.  Central air is provided in each Life Lease apartment.  Subsidized units have electric window air conditioners.
The building and site development had been arranged to take maximum advantage of the park-like setting.  Charleswood Legion Non Profit Housing has been set back some 180 feet from Roblin Blvd. to reduce road noise and allow the building to be surrounded by park on three sides.  The residents enjoy beautiful views overlooking the park to the north, east and west.  The "L" shaped building features only high quality, low maintenance finish materials.  Careful orientation of common area spaces, extra large "Sun Room" apartment windows and private balconies establish a unique indoor/outdoor atmosphere and will allow residents to maximize their year round enjoyment of the park. 
As soon as you enter Charleswood Legion Non Profit Housing you will know this is a residence unlike all others.  The elegant and spacious lobby features a fireside lounge….from the main space, double French doors lead to a smaller reading room, library and games room.  The multi- purpose space, the dining room and kitchen are for the enjoyment of all residents and can be reserved for your private functions.  The bright, all glazed solarium room looks over the park and the garden plots for resident's use. 
There is a formal entrance driveway and covered drop off area with exterior lighting and seating.  Ample resident and visitor parking is provided, with electrical service.  Limited covered parking is available. 
MANAGEMENT STRUCTURE
Charleswood Legion Non Profit Housing is owned and operated by the Charleswood Legion Non Profit Housing Inc., a non-profit organization set in place for this sole purpose by the The Royal Canadian Legion, Charleswood Branch.
The Not-for-Profit corporation administers the financial affairs of the building on a continuing non-profit basis throughout the life of the project.
FINANCING
The "Life Lease", strictly as a financial investment, works for the tenant by reducing the tenant's monthly operating costs.  It may be compared to the way a down payment works for a home owner when purchasing a house.  The greater the down payment, the less the capital borrowed by way of a mortgage, therefore, the less the monthly debt service or mortgage payment.