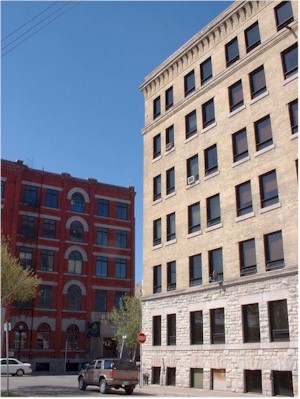 Prairie Housing Co-op was formed to allow households with a physical and/or intellectual challenge live independently in a supportive environment.
The Co-op owns a turn of the century building converted into three independent suites, sixteen suburban family homes and a converted warehouse of twenty eight suites.
The warehouse suites are indeed unique. Built in the original Western Saddlers Building in Winnipeg, 113 Market Avenue offers all of the theatrical and nights club life amenities the historic Exchange District has to offer.
Sponsor: Prairie Housing Cooperative Ltd.
Location: A warehouse at 113 Market Avenue, Winnipeg and scattered locations throughout Winnipeg.
Category: Family Non Profit COOPERATIVE with Independent and Challenged living styles.
Unit Mix: Co-op (28 suite renovated warehouse 19 family suburban homes)
Amenities: Varies with location. Converted warehouse is located in the "Exchange District" of Winnipeg home to theatres, restaurants, night clubs and within walking distance to the Red River walk and bike trail. Single and multiple family homes in residential neighbourhoods close to schools and good shopping.
Subsidies: Rent-geared-to-income available for 14 suites (1 and 2 beds).
Management: Managed by Murdoch Management – call 204-982-2000