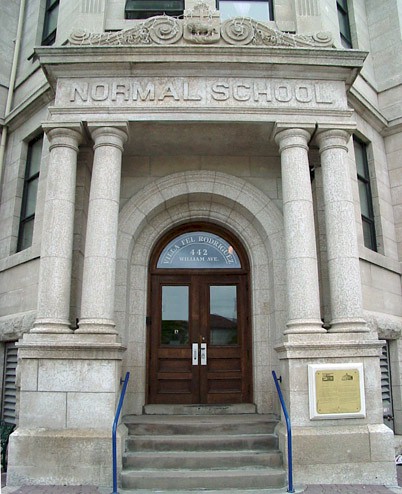 VILLA FEL RODRIGUEZ
The FILCASA Housing Co-op received funding through the Manitoba Housing/ CMHC Private Non-Profit Program as well as grant assistance from the Winnipeg Core Area Initiative, the Manitoba Department of Culture, Heritage & Recreation and the Manitoba Heritage Federation Inc. to construct 29 units of seniors/family non-profit housing.
In addition to providing affordable housing, FILCASA Housing Co-op accomplished the rehabilitation and conversion of the long vacant, historically designated "Normal School" which was originally constructed in 1905. Restoration of this landmark was a major undertaking which has earned this project awards under the 1992 Heritage Preservation Award Program.
All suites within the building are designated for core need thereby providing much needed assistance to households of modest income.
The building was recently renamed in honour of the recently departed founding President of the Filcasa Housing Co-op, Mr Fel Rodriguez.
(Historic Conversion Award Winner)
 
Sponsor: FILCASA Housing Co-op
Location: 442 William Avenue East, Winnipeg, Manitoba.
Category: Seniors and Family Non Profit COOPERATIVE Housing.
Unit Mix: 29 apartments 1, 2 and 3 bedroom layouts.
Amenities: The Project boasts three separate Multipurpose Rooms of varying sizes to accommodate games, celebrations, classes, exercise and a small Chapel located in the existing rotunda.
Subsidies: Rent-Geared-To-Income available.
Management: Developed by ACORN – Managed by MURDOCH – Call 982-2000