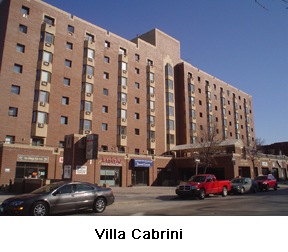 Welcome! We are glad you decided to visit us.
The Villa Cabrini offers a unique mix of residential non-profit rental apartments for seniors, along with an active social and recreational programme. Our location could not be better – located on a residential street adjacent to the heart of Osborne Village in Winnipeg. As well as offering "55-plus" not-for-profit rental apartments, the project houses a small number commercial rental units on the main floor (e.g. restaurant, retailers, etc.), along with a fully serviced underground parkade.
Villa Cabrini provides many unique features including:
123 one bedroom self-contained "55-plus" not-for-profit rental apartment style suites
large multi-purpose area and 2nd floor outdoor roof terrace
a main floor lounge, a library and a coffee shop.
on-site laundry facilities.
heated underground parking.
optional congregate meal program.
Located in the heart of Osborne Village, Villa Cabrini has immediate access to bus transportation, shopping facilities, restaurants, medical clinics, entertainment, churches and all of the services provided by the village.
Services and Programs
There are many stimulating and enriching programs and services available to the Villa Cabrini residents, for example:
Community Connections, computer program
University of Manitoba Faculty of Nursing Practicum Clinics
Massage Therapy
Bingo
Weekly mass
Entertainment, excursions, and special events
Various educational displays and workshops
If you have any questions, please call us at 284.2881
Who We Are
In 1979, the Italian Women's Association of Winnipeg was established to build a Seniors Residence which would fulfill a community need.
Six years later, this vision became a reality in the form of the "Villa Cabrini" because many individuals were willing to give of themselves to help others. Villa Cabrini officially opened on March 31, 1985.
Villa Cabrini Inc, the sponsor of the residence, is a non-profit organization with a Board comprised of volunteer community members. The board's function is to operate the Villa as a community service in perpetuity. The directors of the board serve without remuneration.
The Villa's day-to-day activities are performed by our Property Managers, a Director of Programs & Services, a Congregate Meal Program Coordinator and a Project Caretaker.
The Villa and it's activities are supported by the community and resident volunteers.
Volunteer
What is it like to be a volunteer at Villa Cabrini?
When you volunteer at Villa Cabrini, you will have fun, make friends and learn new skills. Volunteering will also enable you to acquire valuable skills and meet rewarding challenges. By joining the Villa Cabrini volunteer team, you will enrich the lives of others by generously giving of yourself.
How much time does volunteering take?
If you have a few hours each week, you can become involved in some of our short term projects. Or perhaps you could donate a day each month and become involved in a long term project. For those of you who have more time available, we have longer projects or ongoing programs that might be more suitable.
When you become a Villa Cabrini volunteer, you decide how much time you have to give and we will do our best to accommodate you. The following is a list of areas which are available for your volunteer consideration. Postings are open on an ongoing basis.
If you have a volunteer position that is not on our list, please let us know. We are always looking for creative, new opportunities.
For inquiries or to obtain a volunteer application, please contact the Villa's Director of Programs and Services at Villa Cabrini (204)-284-2881.
Birthday Parties
Optional Congregate Meal Program
Excursions
Special Events
Bingo
Library
Watering plants
Reception
Special Events
Villa Cabrini hosts a number of special events throughout the year. Events include:
Hawaiian Lunch – January
Valentine's Supper – February
St. Joseph's Mass & Luncheon – March
Mother's Day Supper – May
July 1st Celebration – July
Mother Cabrini – November
Resident's Christmas Dinner – December
For more information, please call us at (204) 284-2881.
Application form for a residential tenant
Please download an application form for a residential tenant at the link below. For all leasing enquiries please call our property managers direct at (204) 982.2000.
The Villa maintains an "expression of interest list" at no charge to interested parties.
When a suite becomes available, we will go to this list first – before advertising. It is a good idea to get on our "expression of interest list".
Click this link to download an application for residential tenancy and to get on our "expression of interest" list.